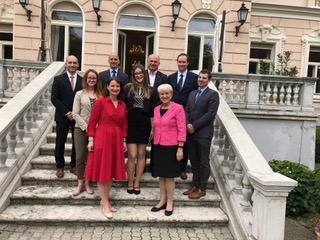 Gravitas has decided – as in previous years – to provide financial and professional support to students from abroad in the framework of the Scholarship-Program of Forum Alpbach.
After a long and comprehensive application and selection process eight Hungarian students had been chosen to attend the seminar weeks and the full Alpbach Conference.
As part of the preparation for the exciting and intense time in Alpbach, we had the honor to invite these selected students to a gala dinner into the residence of the Austrian Ambassador in Budapest.
During this event all the students had the opportunity to talk about the current challenges in politics and economy with Ambassador Elisabeth Ellison-Kramer, Minister Maria Rauch Kallat and the CEO of Gravitas Karoly Pataki.